×
Favazz completes the final task to achieve black belt status
×
Photo by Fred Pollard
On Feb. 8, veteran KSHE DJ Guy Favazza earned his black belt in taekwondo, enduring a grueling four-hour test.
×
×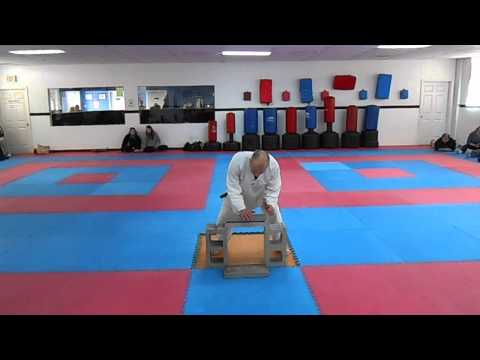 ALTON – In what he calls "four hours of physical and mental abuse," radio personality "Favazz" put down the microphone and bowed to the will of martial arts masters.
Local resident Guy Favazza has been keeping KSHE listeners entertained under the Favazz moniker for more than 20 years. At 49, he says he may notice the aches and pains a bit more, but he feels more alive than ever.
"I never realized how physically demanding this is," he said. "I was sore in places I don't think I had ever been sore."
On Feb. 8, the veteran DJ earned his black belt in taekwondo, enduring a grueling four-hour test including self-defense strikes, grappling, and the breaking of both wood and brick ... seeing his mental and physical capabilities pushed to the very limit.
"It isn't always about winning; sometimes it's about surviving," 6th degree black belt Sonny Hatten said. "This is not an easy test, but the rewards are great."
Favazz has spent nearly three years studying under Hatten, and says taekwondo has taught him to look at life differently.
"You learn self-respect and respect for others," Favazz said.
"Having a black belt is just having a piece of canvas," another of Hatten's students, black belt James Ritter said. "Being a black belt is so much more."
While Favazz was dreading the intensity of the combination kicks and the grappling during his test, it was the breaking of the brick which caused him the most anguish. When the sound of the broken pieces hitting the floor echoed through the room, spectators could hear his sigh of relief.
As he was receiving hugs of congratulations and support (the most meaningful from his 10-year-old son Kieran, himself a black belt and the inspiration for his father to follow suit), Favazz eyed the broken pieces of brick, knowing he will one day conquer one thicker and heavier.
"Once you get a black belt, the journey is not over," he says.
Favazz has been with KSHE since 1991, and has served as assistant programming director since 2006. He currently can be heard weekday afternoons, hosting fan favorites such as the "Daily dose of Led Zeppelin."
"As a teenager, I actually wanted to be a baseball broadcaster, and then I gravitated toward music," he said. "I listened to (radio personalities) J.C. Corcoran and the U-Man (John Ulett) religiously and thought, 'I can do that.'"
In 1988, he met with disc jockey Drew Johnson, who started him on his journey. An internship followed, and "here I am 22 and a half years later."
In those two-plus decades, he says he has interviewed (just about) everyone (bucket list hopefuls include Bruce Springsteen, the Rolling Stones and Pearl Jam).
Sitting on a couch in 2002, chatting it up with Sir Paul McCartney was the pinnacle of his career, while Ozzy Osbourne guitarist Zakk Wylde threatening his life in 2002 over an off-color joke (and the ensuing media attention it created) was easily the most surreal.
"It is just like the Dire Straits song says, money for nothing and chicks for free," he says with a smirk. "This is not a real job, and I truly love it."
Favazz and his wife, Melody, are expecting a boy this spring, and the proud papa says he is looking forward to using his experience in martial arts to bond with both of his sons.
"He will definitely be taking taekwondo as soon as he old enough to handle it," he says, chest puffing a bit with pride.