×
Photo by Dan Brannan
Rosewood Heights firefighter Justin Wilkinson is shown in front of his state firefighter license that reads "RHFD," for Rosewood Heights Fire Department.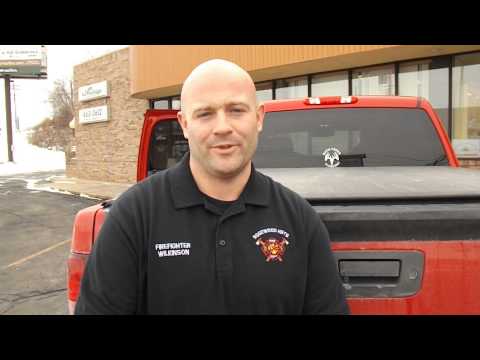 It has been said many times that a firefighter, night and day, is always a firefighter.  
Volunteer fire departments put their lives on the line for their communities, not for pay but for the sense of helping and protecting others.  
The Greater Alton Area has several volunteer departments. In the volunteer Rosewood Heights Fire Department, some are following a generation before that also dedicated themselves to the group. Rosewood Heights is a community of about 4,300 people.  
Rosewood Heights Fire Department Chief Tim Bunt has devoted 35 years to the organization. He follows the footsteps of his father, Don Bunt Sr., 85, who is still a member of the department, and who assists with radio operation when others go out to fire scenes.  
"The volunteers don't get paid a dime, don't get paid for training twice a month plus the runs we have during the week," Bunt said. "A lot of times, volunteer firemen don't get holidays and have to leave their families to fight a fire in an emergency."  
Sometimes Bunt ponders what it would be like without the volunteers.
"The communities wouldn't be protected," he said. "The communities are very lucky to have the volunteers. It is not easy to recruit volunteer firefighters anymore. People aren't knocking the doors down to run into burning buildings."
The Rosewood Heights Fire Department members carry pagers and complete 10 to 12 calls a week during busy times, averaging about 350 calls a year. The calls range from fires to emergency medical runs. Most of the calls are for medical emergencies.  
Justin Wilkinson, a young Rosewood Heights firefighter, started with the group when he was 18 and has been with it for 13 years. He follows his father, Rick, with the department. Justin coordinates the majority of training for the Rosewood Heights crew.  
Wilkinson has had representatives from the Illinois Fire Service Institute join him in training other firefighters.  
"The training is just to better myself with training the other firefighters," he said.  
Wilkinson always will remember his first house fire.
"It was pretty wild," he said. "We responded to a house fire on Airwood in the attic and the garage. The fire chief told me to get inside that ceiling and I had one minute in the attic to get the fire out. I stopped the fire with my hose. They did rebuild the house and we saved most of the house from being burned."  
Wilkinson doesn't think fighting fires makes him a hero, but he finds it extremely rewarding because "we care about people."  
"It is really important when somebody is in need and you can help resolve the situation and make things better," he said.  
The young firefighter said words really don't describe the feeling you get when you help somebody.  
"Every time the pager goes off, it could life-changing for somebody with the actions you choose," he said.  
For firefighters, there is a sense of "brotherhood" that exists for each.  
"We are not just going out and fighting fires and going on EMS calls," he said. "Everybody is like family. We go to gatherings on social levels as friends, go to baseball games and backyard barbecues. We all have each other's backs."  
Wilkinson admitted he would love to be a full-time firefighter, but since the World Trade Center bombings it is nearly impossible.  
"At least 50 to 100 people test everywhere you go wanting to help their communities as a firefighter," he said.  
Last year, Wilkinson coordinated a Muscular Dystrophy Association car/bike fund-raiser, dedicating that to his nephew who has the disease.  
The MDA event raised $15,000. The Camaro Club of Southern Illinois was a big sponsor of that fund-raiser.  
For now, Bunt and Wilkinson will follow the footsteps of their fathers and other Rosewood Heights firefighters in a quest to keep the city as safe as possible.  
On the back of Justin's truck the license place appropriately reads "RHFD."  
"I could not imagine not being a volunteer firefighter," Justin said.