×
Photo by Dan Brannan
Members of the Sipes family, from left, Hank Williams, Kelly Sipes, Williams' daughter; Aspen Sipes, Kelly's daughter; and Steve Sipes, Kelly's husband, are the keys behind Glazy Squares Donuts in Rosewood Heights.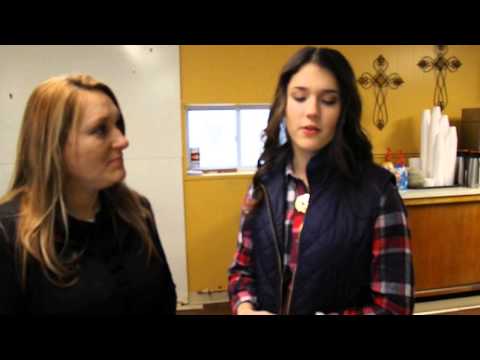 ROSEWOOD HEIGHTS – The name Glazy Squares Donuts is one people can't get out of their minds.
Ironically, the doughnut shop's name originated at a summer barbecue for Kelly Sipes and her family.  
"We were all sitting around at the barbecue throwing around names and ideas and Aspen, who was 13 at the time, came up with the idea for square doughnuts," Kelly Sipes, one of the owners, said. "When she said we should make square doughnuts, my brother-in-law said 'Oh Glazy Squares.' That is when a light went off and she drew the first logo."  
The shop is located at 14 W. Airline Drive in East Alton. Glazy Squares also has a location at 1833 Vandalia St. in Collinsville and is looking at opening one in Granite City.  
Aspen, Kelly and Steve Sipes' daughter, had been watching "Sponge Bob Square Pants" with her young siblings thinking about things that were square to go with doughnuts.  
"I said, 'Why not draw a little doughnut with arms, legs and a baker hat, and coffee mug," Aspen Sipes said. "I drew a logo and my uncle Shane Graves took the whole thing and finished it for me."  
Every time Aspen Sipes works at the doughnut shop, she sees a square doughnut and thinks about that day she came up with the clever name.  
"It is just kind of different seeing square doughnuts," she said. "Circle doughnuts now don't even seem normal to me."  
Kelly and her husband were driving around and realized there were only a handful of doughnut shops. In Beaumont, Texas, where they came from, doughnut shops were on just about every corner. The two also thought the idea of a drive-through doughnut place would be successful.  
"The drive-through window is unique," Kelly Sipes said. "I just wanted to have a doughnut shop where people could go after they were up in the morning in their PJs or sweats. We don't even mind seeing you in your house slippers."  
Hank Williams, Kelly's father, is also an owner. He said he researched the concept and it sounded like fun. He sees the concept growing and said he hopes eventually it will spread across the Mississippi River to St. Louis.  
Hank Williams said he was proud of his daughter and believes the East Alton location will continue to do well with its unique doughnut concept.  
"It is a family operation," Williams said. "We get involved as owners. We put in a weekend; it just depends on how much we have available."  
For 30 years, the Glazy Squares location was the old Angel Cream Donuts shop. The owner died and it was sold a few times before Sipes and her family took over.  
The East Alton location is open 5 a.m. to noon seven days a week. The business has 15 employees between its East Alton and Collinsville locations.  
"We make our doughnuts fresh every single morning," Kelly Sipes said. "Our bakers go in at 6:30 at night to get everything turned on and do cake doughnuts and around midnight, all the doughnuts start coming out. Our cake doughnuts are one of our biggest sellers, and they are so moist they almost fall apart."  
Leftover doughnuts are taken to the Community Hope Center in Cottage Hills.  
"It means a lot to us to have the restaurant in East Alton," Kelly said. "Everyone has welcomed us so well."