×
Fred Pollard
Godfrey Mayor Mike McCormick was on hand to greet his village's newest business, Pizza World in Monticello Plaza. The restaurant opened for business on Jan. 20 and held a ribbon-cutting ceremony on Feb. 4.
×
Fred Pollard
Pizza World chain owner Eric Wortham looks on as the area celebrated new franchise owners Dave and Denise Stafford's new location.
×
Taking the (Pizza) World by (snow) storm
RiverBend Growth Association presides over ribbon cutting at Monticello Plaza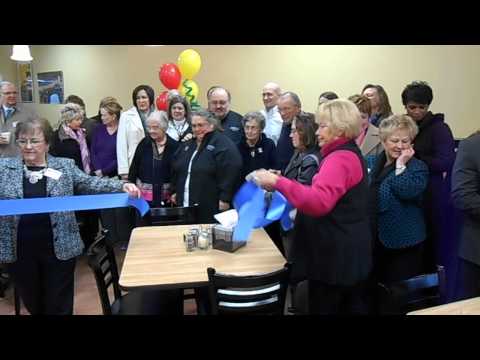 GODFREY – With a ribbon cutting taking place on the verge of a nasty winter storm, Godfrey today officially welcomed its newest tenant, Pizza World.
The RiverBend Growth Association was on hand to officiate the area's newest pizza joint's ribbon cutting. The franchised location at 5775-A Godfrey Road in Monticello Plaza opened for business on Jan. 20.
"We were surprised at the reception," co-owner Denise Stafford said. "We just turned on the 'open' sign, unlocked the doors, and the people just started pouring in."
Denise Stafford has been with Panera for the last 15 years and still works at the Alton location. She and her husband, Dave, who have been married 37 years, are entering into the new venture together.
"We went to Branson and ate at one there, and I contacted them online about how good it was," Dave said. "From there, they told us they were looking to build one in this area and even asked us if we knew where Monticello Plaza was."
Eric Wortham, president of the Pizza World chain, also attended the ribbon cutting.
"This is our new look," he said. "In the last 23 years, we have upgraded our locations and have found what works."
Pizza World has 10 stores in operation with three additional locations under contract.